Indonesia: Christians flogged in public for playing banned children's game
The pair were among five people – including a couple whipped or showing affection in public – who were lashed with a rattan stick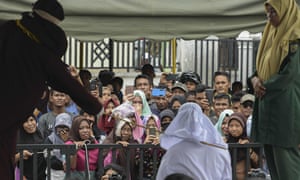 Two Indonesian Christians were publicly flogged in conservative Aceh province Tuesday for playing a children's entertainment game seen as violating Islamic law.
Hundreds of onlookers ridiculed and took pictures of the pair were who were among five people – including a couple whipped two dozen times each for showing affection in public – who were lashed with a rattan stick.
On Tuesday, Dahlan Silitonga, 61, and Tjia Nyuk Hwa, 45, were flogged six and seven times respectively after being arrested for playing a long-standing game at a children's entertainment complex that lets users exchange coins for prizes or vouchers, including cash.
Read more