A bitter legal row in an affluent New Jersey town shows the new face of Islamophobia in the age of Trump.
Read
more
***
How dangerous is Jordan B Peterson, the rightwing professor who 'hit a hornets' nest'?
Since his confrontation with Cathy Newman, the Canadian academic's book has become a bestseller. But his arguments are riddled with 'pseudo-facts' and conspiracy theories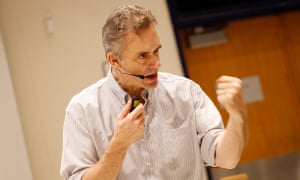 The Canadian psychology professor and culture warrior Jordan B Peterson could not have hoped for better publicity than his recent encounter with Cathy Newman on Channel 4 News. The more Newman inaccurately paraphrased his beliefs and betrayed her irritation, the better Peterson came across. The whole performance, which has since been viewed more than 6m times on YouTube and was described by excitable Fox News host Tucker Carlson as "one of the great interviews of all time", bolstered Peterson's preferred image as the coolly rational man of science facing down the hysteria of political correctness. As he told Newman in his distinctive, constricted voice, which he has compared to that of Kermit the Frog: "I choose my words very, very carefully."
The confrontation has worked wonders for Peterson. His new book 12 Rules for Life: An Antidote to Chaos has become a runaway bestseller in the UK, US, Canada, Australia, Germany and France, making him the public intellectual du jour. Peterson is not just another troll, narcissist or blowhard whose arguments are fatally compromised by bad faith, petulance, intellectual laziness and blatant bigotry. It is harder to argue with someone who believes what he says and knows what he is talking about – or at least conveys that impression. No wonder every scourge of political correctness, from the Spectator to InfoWars, is aflutter over the 55-year-old professor who appears to bring heavyweight intellectual armature to standard complaints about "social-justice warriors" and "snowflakes". They think he could be the culture war's Weapon X.
Read more