Analysts doubt viability of far-right plan but it highlights nature of pre-election debate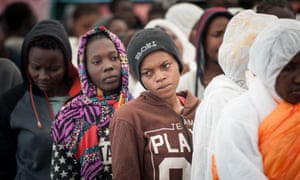 Italy's far-right Northern League has promised to introduce mass deportations of asylum seekers to Africa as part of a radical reshaping of migration policies if it wins next month's elections.
The party, led by Matteo Salvini, would also seek to force asylum courts to disregard the circumstances of a migrant's journey in any deliberation about whether they should be granted asylum.
With Italians going to the polls on 4 March, and in the aftermath of an attack on six African immigrants, rhetoric on the right has increasingly focused on migration and Italy's role as the point of arrival for hundreds of thousands of migrants crossing the Mediterranean from Africa.
Read more