PM steps up populist rhetoric in annual state of the nation speech ahead of April elections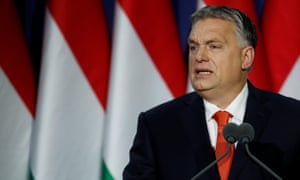 The prime minister of Hungary, Viktor Orbán, has ramped up his populist rhetoric ahead of April elections to claim that "dark clouds are gathering" and that his country is a last bastion in the fight against the "Islamisation" of Europe.
In his annual state of the nation speech, Orbán, who already appears set to win a third consecutive four-year term, made what are now familiar claims about his success in beating back threats to Hungary's way of life from "Brussels, Berlin and Paris politicians".
"We sent the muzzle back to Brussels and the leash back to the IMF," he said early in his address on Sunday, praising the strength of the country's economy.
Read more